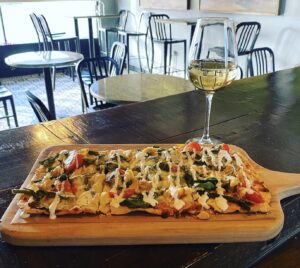 FOOD
Our goal at Evelyn's is to simply create delicious food.  Key word being "simple."  Our kitchen is small, just like Evelyn's was, but it sure does produce some delicious meals.  Most of our menu selections are freshly made at the time of your order and our desserts are home-made on site. Evelyn cared what was put on her table at home and we care what we put on your table at Evelyn's!  
Our food menu features a delicious combination of small plates and salads, as well as flatbreads and paninis.
And, don't forget to end the evening with one of manager Britt's yummy home-made desserts or a slice of owner Kristi's red velvet cheesecake.  
We introduce new menu items frequently, including a monthly flatbread special...so make sure to come back and visit us often!
WINE & BEER
We are proud to offer a variety of wine and beer options.  
Our wine list represents a variety of regions and styles.  The list will change often to introduce different grapes, regions and producers.  In addition, we offer WINE FLIGHTS... a fun way to learn about wine and discover your new favorites.
Our wine list is complimented by a selection of domestic and craft brews, as well as non-alcoholic beverage options.