WHERE CAN WE GET A GLASS OF WINE?
It all began with a simple question from a friend.  We had spent a few hours checking out the boutique shops in downtown Buffalo and she asked, "where can we get a glass of wine?"  After being told there really wasn't a good spot to get a glass of wine in downtown Buffalo, she responded, "you should open a wine bar down here."
At first the idea was just a dream for someday.  But, when local support for the idea started to grow and the perfect location opened up, someday became NOW.
Evelyn was our owner's grandma.  She passed away in late 2016, soon after her 104th birthday. Her life was full of family and friends and lots of laughter.  She had two children, seven grandchildren and sixteen great grandchildren who adored her and a husband who was the love of her life. (Check out our lower level speakeasy cocktail lounge named in honor of Evelyn's husband Muffy...Muffy's Basement).
Evelyn had an infectious laugh and when she thought something was wonderful or funny, she'd say "that's the berries."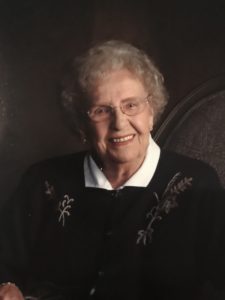 The best thing about her was that she made everyone feel special.  If she called you "dolly," you felt like you were her only dolly.  She lived her life to its fullest and left an impact on all of us who loved her.  It seemed only fitting that the wine bar be named Evelyn's.  A place to have a drink, a bite to eat, and lots of laughs with your favorite people.  That's the berries!
This year, Evelyn's celebrates five years in business!  We've grown from wine to a bistro-style restaurant with a speakeasy cocktail lounge in our lower level.  
Yet, we are still Evelyn's, a quaint neighborhood restaurant that features the wine we wanted to offer originally, as well as delicious food, beer and more to come!
We love being a part of this wonderful community and are honored to be located in historic downtown Buffalo, Minnesota.
Our menu will continue to feature an ever-changing selection of local, national and international wines, as well as domestic and craft beers. Coming soon... we will add some craft cocktails from Muffy's Basement and more delicious recipes to our food menu.